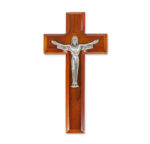 Tutone Wood Wall Crucifix, 8″
Tutone Wood Wall Crucifix, 8″
$50.50
8″ Deluxe Furniture Grade Solid Wood Crucifix in a lacquered Tutone finish.
Genuine Pewter Corpus/ Christ Figure Hand Cast and Polished by New England Craftsman.
Antique Silver hand polished finish with matching "INRI" banner.
Overall size of Crucifix: 8″ high 4″ cross with the wood being 1-1/4″ wide.
Displayed in a quality crucifix box.
Made in the USA.
FREE shipping within the US. No minimum amount required!
30 day returns. No questions asked
Order with confidence via our secure system.
5% of all profits are used to bless the poor, the sick, and the needy.
We have great reviews! Check them out here.
Only logged in customers who have purchased this product may leave a review.