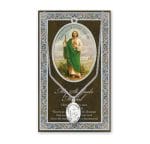 Saint Jude Biography Pamphlet and Patron Saint Medal
Saint Jude Biography Pamphlet and Patron Saint Medal
$31.50
Silver Embossed Pamphlet with Saint Jude Biography and Prayer.
Genuine pewter Saint Jude oval medal.
24″ Stainless steel endless chain.
Size of medal: 1″ (25mm) 1.0″.
Pamphlet dimensions: 3.25″x 5.5″ (83mm x 139mm) (3-1/4″ x 5-1/2″)
Made in the USA
Packaged in a clear pouch.
Only logged in customers who have purchased this product may leave a review.