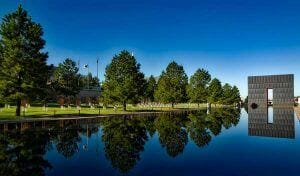 It's much easier than you thought to find a religious store in Oklahoma City
The Big Friendly is a great place to live, to work, and worship, isn't it? From the beautiful Cathedral of our Lady of Perpetual Help to the architectural gem of St. Patrick's, there are plenty of unique churches to check out in OKC.
Many people have referred to Oklahoma as the buckle of the Bible Belt and we tend to agree. The people in Oklahoma City and all around seem to be very religious. Yet we love the religious culture here because it is diverse and welcoming. It isn't difficult to find a church where you fit and feel comfortable.
If there's no religious store in Oklahoma City near you or you aren't comfortable walking into a physical store right now, we are here to help. Our religious shop is online and we are based out of Oklahoma. We offer free and lightning fast shipping on all orders big and small which makes us unique. We figure just because maybe you can't go into a religious store in Oklahoma City right now doesn't mean you should have to pay an arm and a leg for shipping!
We offer a unique collection of gifts from around the world.