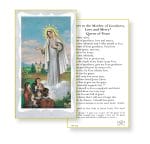 Our Lady of Medjugorje Holy Card – 100 Pack
Our Lady of Medjugorje Holy Card – 100 Pack
$35.00
Our Lady of Medjugorje Holy Card featuring gold edges.
Artwork by Fratelli Bonella.
Prayer to the Mother of Goodness, Love and Mercy,Queen of Peace on the back.
Card size: 2.0″ x 4.0″ (51mm x 102mm) 2″ x 4″.
Sold in packs of 100.
Made in Italy
Packaged in cellophane.
Only logged in customers who have purchased this product may leave a review.