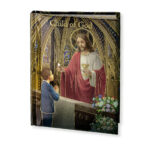 Cathedral Edition Boy Child of God Book
Cathedral Edition Boy Child of God Book
$32.00
Child of God Cathedral Memories edition for a boy.
Contains a child-friendly step by step explanation of the Mass by Father Daniel Lord.
144 pages.
Artwork by Fratelli Bonella.
Black gold stamped cover.
Book size: 4″ x 5-1/4″ (102mm x 133mm) 4.0″ x 5.3″.
Sold individually
Made in Hong Kong
Packaged in cellophane.